تاریخ:چهارشنبه 26 تیر 1392-08:44 ب.ظ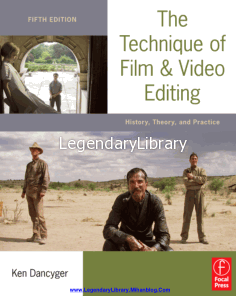 سال : 2011
صفحه : 486
حجم : 7 MB
قالب : PDF
In this fifth edition of the Technique of Film and Video Editing, I have added a new sectioncalled "The Goals of Editing."

As this book expanded through editions one to four, it became a history of editing as well asa theory-practice book on different genres—documentary for example—as well as differenttypes of sequences—action, dialogue, comedy. Along the way, my students at New YorkUniversity and in my workshops abroad reminded me that what was being overlooked werethe fundamentals, the purposes editing served. An article I wrote for Cineaste on Editing forSubtext pulled into focus what I had been including in my lectures but not highlighting inthis book. And so, in this fifth edition I have chosen to fix on those goals of editing to high-light their centrality in the editing process.

The new chapters are about editing for narrative clarity, editing for dramatic emphasis, edit-ing for subtext, and editing for aesthetic purpose. All chapters take a case study approach toillustrate the goal.

These goals lie behind the evolution of the history of editing and make more precise the exer-cise of pace, juxtaposition and the use of particular editing choices from the close-up to jumpcutting. Although there are distinct trends or styles in how a film is edited, the underlyinggoal remains the same—to move the audience into and out of a narrative or documentary orexperimental narrative in the manner that best conveys the editorial intention of the creators.This is why this new section is so important to the evolution of this text. The new editionrefocuses the book's audience on what editing can and should achieve.I have also added examples of recent films to update pace, purpose, and the means used toedit action, dialogue, and comedy sequences.

I am excited about these changes in the fifth edition. I hope you will be too.