تاریخ:چهارشنبه 26 تیر 1392-12:56 ب.ظ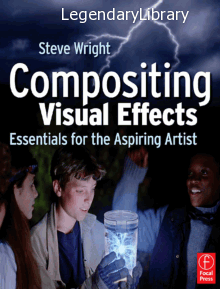 سال : 2008
صفحه : 263
حجم : 13 MB
قالب : PDF
Digital compositing is a key component of today's visual effects, which create fan-tastic and exciting images for audiences everywhere. There are now many schools, universities, training institutes, and online training services attracting an ever-growing number of new students eager to join this exciting branch of the entertainment industry. Beyond formal training institutions, it is also one of those rare fi elds in which enterprising people can actually train themselves, then go out and get a seri-ously good paying job. You don't need a degree from any particular institute. You only need to demonstrate that you can do the work. The problem is it can be diffi cult to get started because so much of the training available out there makes assumptions about the background of the student. This book does not.

This is an introductory book on digital compositing for visual effects. It makes no assumptions about the readers' background and is written for those that do not yet have a deep exposure to digital compositing or visual effects, but would like to quickly and painlessly come up to speed. It is digital compositing lite, readable by all, lavished with hundreds of fi lm shots, fi gures, illustrations, and diagrams to help tell the story for the visual reader. For those that already have a background in digital compositing, I would recommend my more advanced book on the subject, Digital Compositing for Film and Video, by Steve Wright. Those who would benefi t most from this book include:

• Digital compositing or visual effects students new to the industry;

• Someone considering digital compositing as a career and would like to see what it is all about;

• Entertainment industry professionals that would like to understand digital compositing, such as producers, directors, editors, colorists, and postproduction supervisors;

• The curious, the interested, and the explorer.