تاریخ:چهارشنبه 26 تیر 1392-09:18 ق.ظ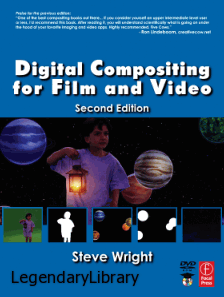 سال : 2006
صفحه : 468
حجم : 14 MB
قالب : PDF
The ultimate artistic objective of a digital composite is to take images froma variety of different sources and combine them in such a way that theyappear to have been shot at the same time under the same lighting condi-tions with the same camera. To do all of this well it is important to have asubstantial understanding of the technology because many of the obstaclesthat you will encounter are, in fact, not artistic obstacles. They stem fromunderlying technical issues that are not at all obvious to the casual observerbut create problems in the shot.

The designers of digital compositing software have tried mightily to createa software tool that hides the technology so that it can be used by artists, andto a large degree they have succeeded. However, no amount of artistic train-ing will help you pull a good matte from a bad bluescreen or smooth motiontrack jitter caused by grain content. Problems of this sort require an under-standing of the underlying principles of the digital operations being used tocreate the shot and a library of techniques and different approaches to theproblem.

It takes three distinct bodies of knowledge to be a good digital effects artist:the art, the tools, and the technique. The artistic knowledge is what allowsyou to know what it should look like in the first place in order to achievephoto-realism.The knowledge of your tools is simply knowing how to operateyour particular compositing software package. The third body of knowledge,which is technique, comes with experience. Eventually you become a sea-soned veteran where you are seeing most problems for the second or thirdtime and you know exactly what to do about them. The beginner, however,is continually confronting problems for the first time and it takes time to runthrough all the bad solutions to get to the good ones.This book contains yearsof production experience.

While digital artists are invariably smart people, being artists theyundoubtedly paid more attention in art class than in math class. But math isoccasionally an indispensable part of understanding what's going on behindthe screen. What I did in this book was, first, avoid math wherever possible.Then, in those situations where math is utterly unavoidable, it is presentedas clearly as I know how with lots of visuals to smooth the path for artiststhat are, ultimately, visual thinkers. I hope that as a result you will find thelight smattering of math relatively painless.