تاریخ:جمعه 21 تیر 1392-10:11 ق.ظ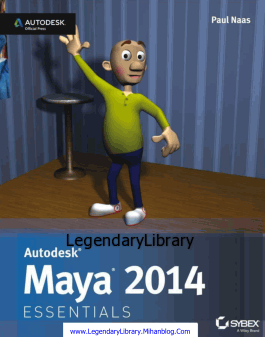 سال : 2013
صفحه : 306
حجم : 20 MB
قالب : PDF
Welcome to Autodesk® Maya® 2014 Essentials. Autodesk® Maya® soft-ware is one of many 3D computer graphics (CG) packages available on the mar-ket, and although it has many unique features, it shares one trait with every other package out there: it's very powerful and very complex. The goal of this book is to walk you through some of the features of the software and familiarize you with the tools Maya provides and how to use them.

Although nearly every chapter in this book provides a tutorial that covers a particular facet of the software, the goal is not to show you how to do one single procedure. In every case, the intent is to provide you with background and con-text for the steps you're performing, so that you develop an understanding of the procedure and its place within the overall CG workflow and can apply that knowledge to all your future projects. In many cases, the tutorials provided take you step by step through an entire process, ending with a specific result. In other chapters, while there are still step-by-step instructions provided, it would be impossible to take you through the entire procedure. In these cases, the information presented is more conceptual and explains the "why" of what you're doing, rather than the "what."

With that end in mind, the tutorials in this book are designed to be com-prehensive but as simple as possible to complete. Many books on CG provide tutorials that are too complex, frustrating readers and leaving them with more questions than answers. The results of the tutorials in this book may look simple, but the process of completing them will give you a solid foundation in creating CG imagery.

That said, you will probably make some mistakes along the way. That's simply part of the learning process. If it happens, just try again. After all, you don't learn to drive a car by hopping on the freeway or entering the Daytona 500—you start out in a parking lot where there is lots of room for error. I tell my students that if they have to redo a procedure, they'll find that the second time around it'll go faster and the results will be better—and that has always been the case.